DETAILS OF VINHOMES GOLDEN RIVER BA SON
Vinhomes Golden River project is constructed under historic land Ba Son. Bason land under 3rd subdivision of new center planning of Ho Chi Minh City, along with apartments and villas in Vinhomes Golden River - an strategic position where is very important to the urban areas . This area of Vinhomes Golden River is evaluated as an unique diamond right in the center of Saigon.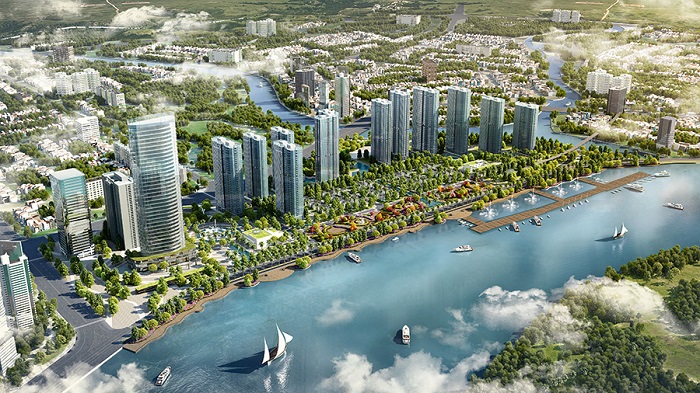 INFORMATION OF VINHOMES GOLDEN RIVER
- Location: No.2 Ton Duc Thang Street, Ben Nghe Ward, District 1, Ho Chi Minh City (adjacent to Ton Duc Thang and Nguyen Huu Canh.)
- Investor & Developer: Vingroup
- Scale: 25.29 ha including 16 blocks with 60 storey building, over 3.000 apartments from 1 to 3 bedrooms, building density of 18.6%, with 8-12 units/floor, 1 unit/elevator, glass-encased buildings like Landmark 81.
- Apartments: 1 bedroom: 17%, 2 bedrooms: 50%, 3 bedrooms: 33%
- There are 63 detached and semi-detached villas
- Legal status: permanent ownership
PRIME LOCATION
Vinhomes Golden River Urban owns extremely favorable location in the heart of District 1 which is the old administrative center and easy to connect with the new administrative center of District 2.
Located at No. 2 Ton Duc Thang Street, Ben Nghe Ward, District 1 of Ho Chi Minh City, adjacent to the two fronts Ton Duc Thang - Nguyen Huu Canh, and Saigon Zoo. In particular, Vinhomes Golden River also has two fronts of Saigon River stretching over 1 km.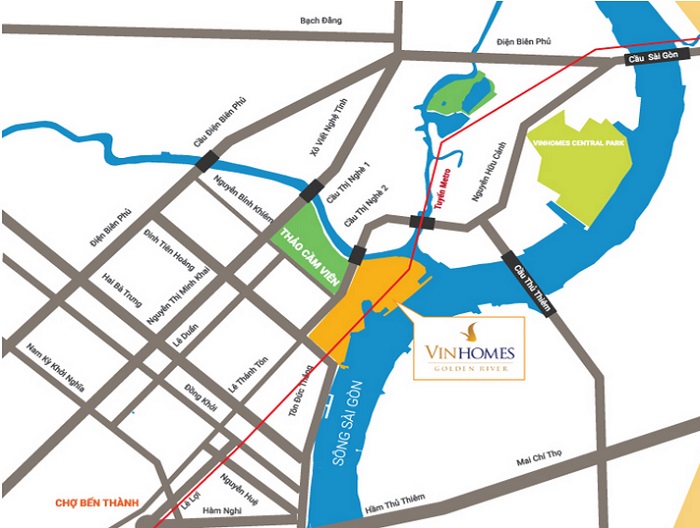 MASTER PLAN OF VINHOMES GOLDEN RIVER
Vinhomes Golden River Apartments is divided into 4 sub areas:
- The Front: 3 apartment blocks called F1, F2, F3.
- The Luxury: 6 apartment blocks called L1, L2, L3, L4, L5, L6 (central blocks in the project).
- The Aqua: 4 apartment blocks called A1, A2, A3, A4
- The Victoria: 63 villas.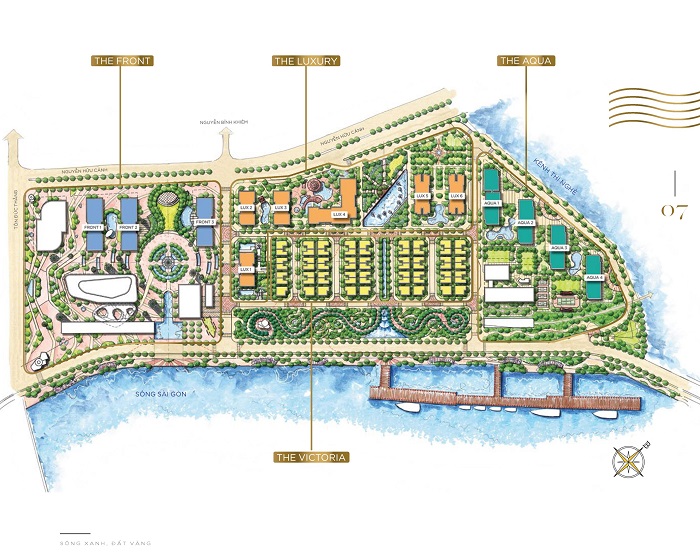 ADVANTAGES OF UTILITIES:
Low-e glass
Smart homes
Sanitary ware: Duravit - Germany
Kitchen appliances: Bosch - Germany
Central air conditioning
PANORAMIC VIEWS
- View of Landmark 81 (the highest building in Vietnam under Vinhomes Central Park)
- View of the new urban area in District 2
- View of Saigon zoo
- View of Bitexco Tower, Ben Thanh and center of District 1
UTILITY SYSTEM OF VINGROUP
Inter-level system Vinschool
International hospital Vingroup
5 star marina
Indoor ice rink
Vinke (educational play area for children)
Cinema
Swimming pools in all apartment buildings.
Outdoor sports courts (tennis, badminton ...)
Lounge
5 star Club house, gym, rooms for community activities.
Children's playground, mini golf courses, pet care services, road systems, picnic park...
SPECIAL FACILITIES
Underground Metro Station No. 3, located right in the heart of the project
500m Marina
Riverside running and biking route
Landmark square
Tropical garden